Toxic leaders affect companies, and governments. How to deal with them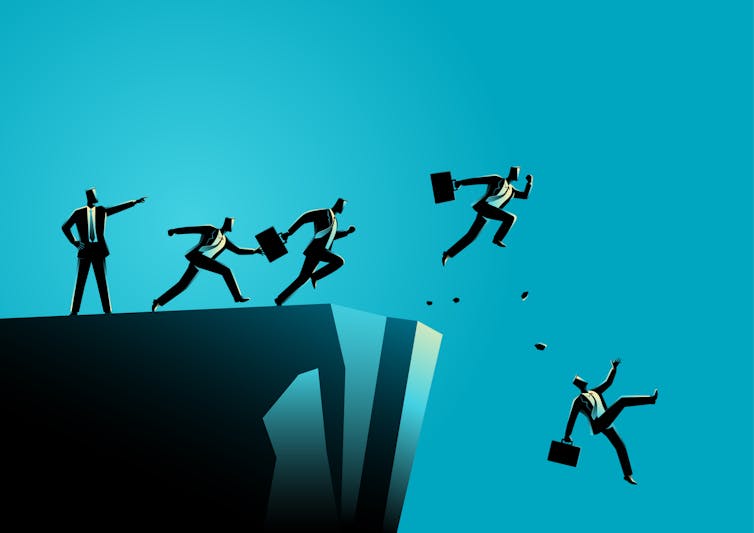 Linda Ronnie, University of Cape Town
Toxic leadership is characterised by a number of familiar traits: unwillingness to take feedback, lying or inconsistency, cliquishness, autocracy, manipulation, intimidation, bullying, and narcissism. The toxic leader can – if allowed to run rampant for long enough – destroy organisational structures over time and bring down an entire organisation. This applies to countries too.
There are a number of reasons for this. The most obvious is that a toxic leader can influence organisational culture through aversive action. This can include flouting organisational processes, rewarding loyalty over competence, normalising socially unacceptable behaviours like infighting, and by breaking down trust and eroding clear lines of authority.
A toxic leader's other, more insidious, influence is through what they do to the relationships between people around them.
Psychologists, Paul Babiak and Robert Hare, describe how two factions typically develop in an organisation once the deviant leader's ascent has begun. One faction consists of supporters, pawns and patrons. The other is made out of people who remain true to their principles, realising they have been used and abused, or that the organisation whose ultimate goals they still support is in danger.
If it sounds familiar it's because South Africans are spectators to exactly this kind of factionalism. In recent months pro and anti President Jacob Zuma factions have been involved in increasingly energetic mudslinging matches.
For many, Zuma represents the quintessential toxic leader. Whether one is for or against the president, it remains that he's at very least a controversial figure, and criticism of him has been known to lead to reprisals.
The good news is that toxic leadership can be overcome. When it's understood and challenged, it can be dismantled or reformed.
The toxic environment
Where there is toxic leadership, the ethics of the working environment are compromised. Typical behaviours are abuse of privileges, theft, violence and verbal abuse. Any number of these can be recognised from news reports around South African politics.
Scandals over the awarding of government tenders, the mismanagement of taxpayer funds and the maintenance of corrupt relationships are now an all too familiar reality in South Africa.
But a toxic leader does not absolve employees who choose to engage in deviant conduct. Ministers and private sector supporters who choose personal gain or corrupt relationships remain responsible for their own choices. Of course, it's much easier to make the wrong decision if it's the dominant way of doing things in a particular environment.
Such behaviour may be rooted in financial gain, or lie within the culture of an organisation. The motivation to achieve results may spark greater numbers of people to either actively harm, or passively ignore, the welfare of others to achieve their desired end.
This is why the removal of a psychopathic leader doesn't guarantee the eradication of toxicity as it's likely to be entrenched at lower levels of organisational leadership by the leader's sycophants.
Fighting from the bottom up
The responsibility to move against toxic leadership doesn't lie with an individual, but concerns the organisation as a whole.
In the public sphere, this responsibility extends to society as a whole.
Crucial to overcoming the toxic leader's negative impact is for other members of the organisation to remain firm and loyal to their principles, and to take a united stand.
If people are able to stand together against toxic leadership, the leader may leave of their own accord. Once this happens individuals in the rest of the organisation need to cleanse the organisation by distancing themselves from the leader's negative actions.
Another way of tackling toxic leadership is to find out who they answer to, if it's not immediately apparent, and appeal to this authority. Bullies are not always swayed by open dialogue or whistleblowing, but may answer to a higher law if this is done formally and armed with the facts. In the case of an errant public servant, this may be achieved through, for example, the judiciary and institutions like the Public Protector.
If all these fail, there are ways to manage the situation with the toxic leader in position. It's necessary to understand the leader's history to analyse how they got to this point. Share this with key decision makers. This is vital because a core aspect of the solution is to establish a coalition of like-minded individuals who understand the leader's negative impact.
The coalition should not take a punitive, antagonistic approach, but rather a supportive one, using appropriate benchmarks and timelines that reflect the goals of all key stakeholders.
Much of what's observed in the corporate world applies to leadership in the public sector. With proper interventions, a valuable level of accountability can be brought into the workplace and to service delivery.
The accountability of leaders can be increased through forums like townhall meetings to force them to think deeply about their behaviour and decisions. Where politics is concerned, visible performance management like this can do wonders for the well-being of citizens.
It's also critical to establish mechanisms to protect people speaking up against leaders – the whistleblowers – as their actions should be free of fear, such as loss of income.

With protection mechanisms in place, employees and citizens alike should be able to freely raise issues and protect both themselves and their ideals, whether their concerns relate to a private company or a government department.
Linda Ronnie, Senior Lecturer in Organisational Behaviour and People Management, Graduate School of Business, University of Cape Town
This article was originally published on The Conversation. Read the original article.